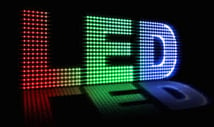 If you've seen LED Lighting Upgrades in the news lately and thought "Eh, no big deal," you may be in for quite a surprise. We're fairly certain that ignoring it could be detrimental, and we're going to explain how.
Saving Money
For starters, the fact is that you will spend more money in energy costs by sticking with regular lighting. It takes more wattage to light older bulbs than what is used with the new LED lights that are now available. Also, you might think that because LED bulbs use less wattage that the light will not be as bright, but that's not true.
In fact, LED bulbs are often brighter than their counterparts. For instance, to achieve the same brightness you would get from a regular 75 watt bulb, an LED only uses between 9 and 13 watts. For the normal 150 watt bulb, an LED only uses 25 to 28 actual watts. So switching to LED's is a definite break for the wallet.
Longer Lifespan
In addition to saving money on energy costs, you'll also save quite a bit in replacement. We all know how often we have to replace standard bulbs. You have to keep extras on hand because you never know when you're going to need them.
However, the lifespan of an LED is extraordinary! With continuous, around the clock usage, LED bulbs last an average of eleven years. With only 50% usage, of course, that time doubles to 22 years. If you take the time to add it up, it equals monumental savings.
So what are you waiting for?
If you'd like more details on how to make the switch from regular bulbs to LED's, please feel free to contact us at your convenience. We'll be more than happy to help you save money!