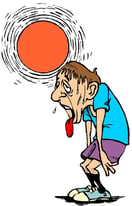 As temperatures start to rise, the concern for keeping down utility costs is at the forefront of any business owner. Though traditional fluorescent light is attractive and bright, its heat can contribute to the need to crank up the air conditioner during the summer. Summer temperatures combined with heat emitted from traditional lighting makes a perfect storm for high utility costs. How can you combat this? The answer can be found in an LED lighting upgrade.
Unlike traditional fluorescent lighting, LED lights are cool to the touch. They use far less energy to produce the same amount of brightness that traditional lighting delivers which explains why they do not emit a lot of heat. LED's produce only 3.4 British thermal units (BTU's) per hour compared to the 85 BTU's emitted from incandescent lights, just to show you an example. These factors result in savings in both electricity for lighting and with temperature control in the warmer months.
It makes financial sense to buy things that work well and will survive the test of time. LED lights satisfy both of these characteristics because they last longer and are durable. In fact, they can last up to 50,000 hours. They are also solid and therefore do not break easily like its predecessors. The decreased need to buy and replace LED lights ultimately contributes to more savings over time. In the end, quality always wins and saves you money by saving you the nuisance of constant replacement or repair.
Every business owner wants to make the best financial choices. With summer here, it is a wise move to reconsider the costs implemented by traditional lighting and how it will also impact the costs of air conditioning. Great savings can be made by replacing your current lighting with cool-to-the-touch, eco-friendly LED's. If you would like to learn more about how you can make this valuable transition today, contact us . At Lighting Services Inc we are passionate about providing you with high-quality electrical services for your business.