We've all heard that we should change the batteries in our smoke detectors when the time changes, but other safety concerns need periodic attention as well. This year, as we welcome the New Year, consider your lighting maintenance program. What? You don't think you have one?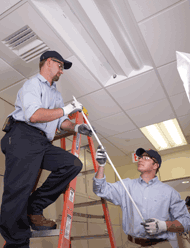 Lighting maintenance programs are important for all of the same reasons that we install lights in the first place. We all need to see what we're doing. Customers need to see products. Staff needs to see their work. Management needs to see what everybody else is doing. And we all want to see the emergency exits in case of a bona fide emergency.
No matter what kind of lighting you have or where it's located, there are certain things that are going to lower the efficiency of your lights over time. Dust can collect on lenses and reflective surfaces and in other unbelievably small places, decreasing the effectiveness of your lighting system. Electrical problems may arise in the light wiring. And, no matter what kind of bulbs you're using, they will eventually fail or their output may be so minimized that they do not serve their intended purpose.
As we begin the New Year, why not make it a priority to keep the entire year bright by adopting a periodic lighting maintenance program? Have your bulbs and wiring checked for any developing problems, get old bulbs replaced with new and upgrade to more energy-efficient systems.
Contact us immediately to see what we can do to brighten your business in 2016.