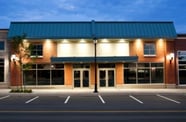 Inspecting and maintaining exterior lighting at retail locations and supermarkets is crucial and should be performed regularly. Exterior lighting carries the responsibility of illuminating your retail brand while also providing adequate lighting for outdoor security surveillance and making patrons feel safe in their environment.
The Need for Exterior Lighting Inspections
Exterior lighting inspections can discover improvements to better guide customer traffic patterns. Well-lit entrances and exits will help navigate both pedestrians and motorists to your location in busy retail areas. Dead spots can exist in parking lot lighting which creates an opportunity for criminal activity and contributes to shoppers feeling less safe.
Parking lots are often under-lit due to aging and blown-out bulbs. These fixtures require re-lamping with specialized equipment and bulbs that have the proper light distribution pattern to avoid dead spots. Additionally, retailers can add curb appeal to any commercial location with landscape lighting. Incorporating these fixtures will add the right aesthetic curb appeal with low-brightness bulbs and decorative fixtures.
Include Exterior Lighting in Your Retail Lighting Maintenance Programs
Partner with a reputable service that can include inspection of exterior lighting and can provide the following:
analysis of emergency exit lighting placement and adherence to local fire codes
re-lamping of aerial fixtures in parking lots, building facades, sidewalk and landscaping fixtures where needed
recommendations of energy-efficient LED or fluorescent upgrades which can save on utility bills and decrease maintenance costs
electrical system safety checks for frayed wiring, loose connections, and faulty equipment which can prevent fires
consultation and installation of lighting controls to automate lighting on/off cycles and brightness levels for optimum safety and energy conservation
We offer our clients 24-hour service from licensed electrical engineers and certified technicians to provide a one-stop solution for all your commercial lighting needs. Contact us to discuss our inspection, repair, and maintenance programs for interior, exterior and emergency retail lighting.