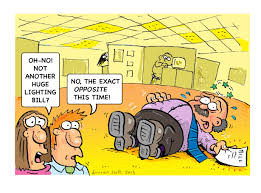 Successful businesses are always looking for ways to increase long-term profits with low-cost investments.
These kinds of strategies are what lead to sound economic performance for years to come, even through the inevitable rough patches that might arise from time to time; with enough extra breathing room during the good times, you're fully prepared to make it through a lean period.
A simple method to achieve this kind of cost/benefit balance is to upgrade your traditional lighting to an intelligent, efficient LED system. This is a business decision that will lead to major energy savings for years to come.
Here are three major reasons why businesses are increasingly turning to LED lighting upgrades:
LED Lighting Has Lower Maintenance Costs
LED lighting systems are far more reliable than the traditional fluorescent setups that commonly populate offices and industrial buildings. Fluorescent lighting requires re-lamping and re-ballasting on a five-year cycle, which LED lighting does not require.
Simply checking the overall ongoing energy expenses of your fluorescent lighting doesn't tell anywhere close to the entire story. The required level of maintenance adds up to major recurring expenses that tag themselves on top of the higher ongoing energy costs of fluorescent lighting.
Want to discover the real cost of a fluorescent lighting system? You'll find a huge portion of it in your yearly building maintenance bills.
Planning Out Lighting is a Cinch
A modern, intelligent LED system goes well beyond a simple electrical connection to a bulb. These systems are centrally controlled by a computer system that gives business owners an unprecedented level of control over the lighting in their buildings.
Full-range dimming allows you to apply the exact amount of necessary light to every single space within your buildings. And it's easy to adjust on the fly as factors like outdoor lighting or the productivity of your employees might demand different lighting situations.
But the single greatest boon is in the ability to set up automatic behavior for your intelligent LED lighting.
Time-based lighting follows the plans of a preset profile. Depending on the time of day, lights dim, brighten, or turn off entirely. Plan for 24 hours, or come up with intricate profiles that take into account things like days off, temporarily unused spaces, and more. It's completely up to you.
Lighting sensors work in concert with your intelligent LED system as a secondary method of controlling light in contrast with natural light coming in from windows. Depending on the amount of natural light available in a given space, your LED lights provide the exact boost necessary before fully lighting the space independently once the sun goes down.
LED Lighting Reduces Fire Risk
A major aspect of business ownership is being able to think several steps ahead. Avoiding externalities means considering many possibilities, some of which you might not ever run into, and figuring out plans to mitigate them before they happen.
No one likes to consider a fire occurring in their place of business. But it remains a possibility that must be considered in any long-term plan. And replacing fluorescent lighting with an intelligent LED system helps notably lower the risk involved.
Fluorescent lighting draws much more power than LED lighting, and in the process generates a great deal of heat. While any properly installed fluorescent fixture is incredibly unlikely to be the direct cause of a fire, employees or guests unintentionally putting flammable objects near the intense heat of a fluorescent lamp is one of the ways this type of fire can occur.
Ready to learn more about how refreshing your old fluorescent lighting with a cutting-edge intelligent LED system can lead to massive savings of 70% to 90% on your energy bills? Contact the pros at Lighting Services, Inc. for a free consultation.