Over the last few decades there were many 32v D.C & 36v D.C. central emergency lighting systems manufactured by Dual-Lite, Light Alarms, Chloride and others.
These systems were very well built and many are still in use in the field. They were capable of supplying D.C. lighting loads of 1200-5000 watts for 90 minutes depending on the AMP/hr capacity of the either the lead antimony or nickel cadmium batteries. These lighting loads could be divided into different zones such as hallway corridors, exits, etc.
However, over the years the use of unit emergency lighting equipment and AC inverter systems are now commonly specified in new construction or renovations. In nearly all cases mechanical or electrical replacement parts for these older D.C. emergency lighting systems are no longer available. This creates major expense when, to meet the fire code requirements, new or replacement equipment needs to be installed.
This expense can be avoided by having a solid state 32v D.C. or 36v D.C. retrofit assembly installed in your old cabinet.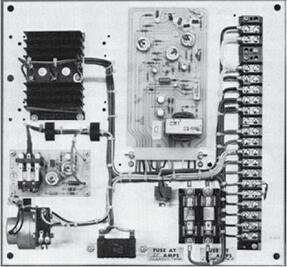 It can be adjusted for any type battery, new or old. These retrofit assemblies have 120/277 volt inputs, indicator lights, sealed relays, a low wattage battery disconnect, reverse polarity protection and a current limited output. Customers take note, especially in the North East; let Lighting Services give you a quote before you spend thousands…