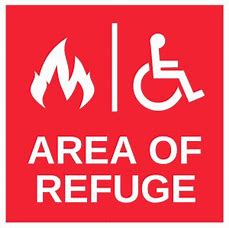 Area of Refuge Signs
What is an Area of Refuge?
An area of refuge (sometimes called an area of rescue) is a designated spot in a building where individuals with mobility challenges can wait for help in case of an emergency and evacuation is not safe or is not possible. It is intended for the elderly, persons with disabilities, sick people, and anyone else who cannot use the stairs to exit. It has a call button for help and a 2-way voice communication system.