Everywhere that buildings exist, there exist standards for keeping the people using them safe in an emergency. In America, the standards that government entities reference is called the NFPA 101, or the Life Safety Code. At least 43 states have adopted it as their official standard for creating and maintaining safe buildings, and all states at least base their building safety codes on it. So what is this Life Safety Code, and how does it affect you?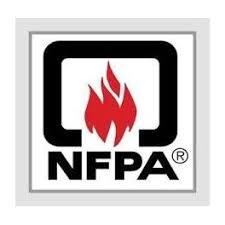 NFPA 101
The National Fire Protection Association is a volunteer organization dedicated, as its name implies, to keeping people and property safe from fire, electrical, and related risks. It was founded around the beginning of the 20th century, and it has become a respected name in fire codes. The organization even offers public education programs to cities adopting their standards.
While its standards are not legally binding documents, cities and other municipal organizations can adopt parts or all of their codes as their official rules. When that happens, the standards become something city officials, such as the fire marshal, can enforce.
The Life Safety Code was first created in 1913 by one of the NFPA's committees. The committee members collected data from famously destructive fires and pinpointed why those fires killed people. From this data they created minimum fire safety standards for construction, operation, building design, and maintenance of buildings. In 1927, they generated a version of the code called the Building Exits Code. They revamped it completely in 1963, and called it Code for Safety to Life from Fire in Buildings and Structures.
This code is updated every 3 years, and its latest version came out in 2018. It covers new and old buildings, and specifies how to keep people safe from everything related to fire, including smoke, heat, and toxic gases. The standards change depending on how many people are intended fit in a building, what people use the building for, and if it contains hazardous materials.
How It Affects You
The code is a substantial document, with chapters devoted to day cares, apartments, industrial buildings, and everything in between. Whatever type of building you happen to run, it is covered in the Life Safety Code. Not only is NFPA 101 comprehensive, it is considered the reference of choice for anyone wanting their buildings to be safe. Architects and electricians use it to design places, and insurance companies can use it to determine who is at fault in an accident.
Because of this, your emergency lighting technicians should be familiar with the NFPA 101 and its standards. It will help them identify the relevant code that they need to work to in order to keep your building compliant with state, federal, and municipal building codes. For instance, they may need to know that if your emergency lights need to change energy source in an emergency, the switch needs to be made within 10 seconds. If your area doesn't have building codes regarding something, many professionals consider the NFPA 101 the default code.
All of this can get complicated, and that is why Lighting Services, Inc. provides trained technicians with expertise in how to keep your emergency lighting fire-code compliant. We have been serving businesses for 85 years with dependability and responsiveness. We offer preventive maintenance plans for monthly, semi-annual, or annual emergency lighting inspections. If you want to be sure that your building's emergency lights and exits are up to code, contact us.