You have 5-6 inch recessed lamps or light heads in your hallway ceilings or doorways.
Your facility was built prior to 1990 and has never had a major upgrade to its electrical and/or life-safety systems.
You have various different types of visible stand-alone emergency lighting units in some areas but are void of units in many others.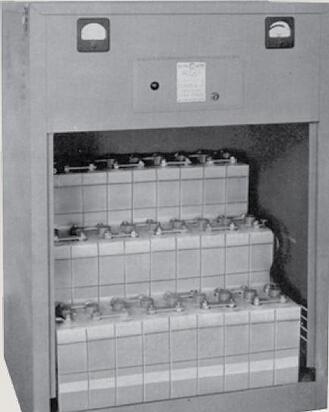 Many facilities, particularly schools, were designed with 12v, 32v or larger 36v D.C. emergency lighting systems in the 1970s-1990s. Usually, the emergency lighting systems are housed in custodial closets, electrical, or boiler rooms scattered around the buildings. Most were manufactured by Dual-Lite and some by Light Alarms or Lithonia. In some cases, they have been shut down purposely as individual emergency lighting units have been installed in areas they used to serve. However, sometimes the units are literally lost behind shelving, storage or other debris and are forgotten about until an emergency occurs or a new Fire Marshall takes a close look during an inspection. This is a problem not only because the facility will not be ready for a life-safety emergency if the systems are not maintained properly, but also because the units themselves can be a fire hazard if not maintained. If a charger continues to over-charge expired, dried-out batteries, over time, the batteries themselves can literally cook and cause a fire. Combined with the fact that these systems are often housed with flammable materials like books and files, and they are unknowingly stacked on cabinets housing the D.C. emergency lighting system this is a major fire concern.
Even if the systems have been inoperable for some time they can often be repaired by replacing the batteries and recalibrating or replacing the charger board. It is critically important to not only have the proper OSHA and NFPA fire code compliant D.C. emergency lighting systems but also to have them all maintained properly to insure they will operate as designed in an emergency.