Brick-and-mortar retail stores rely on ambiance for a lot of their sales, and lighting is an important aspect of that ambiance. There are a couple of things a retail outfit must keep in mind when it is using lighting to set the tone for its establishment.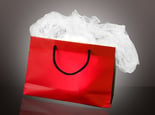 Don't Let Lights Start To Flicker
The dreaded flicker and hum of industrial lighting comes from many sources. Aging ballasts, run-down fixtures, and loose bulbs can all make your lights function erratically. These conditions make your store uncomfortable to shop in and the flickering and humming can give sensitive customers a headache.
The best way to avoid this is to have lighting experts regularly inspect your lighting system once or twice a year. Electricians can spot the warning signs of dying components early and deal with them quickly, which will head off any problems.
Relamp Regularly And In Bulk
If you have a brightly lit store but there is one dark corner where a bulb has died, customers often take the poor illumination as a sign that the area is for employees only or currently under construction. You will lose sales because of the lost lighting.
Lights also lose their power over time. After about 2,000 or so hours of use for most incandescent bulbs, the filament degrades to the point where it is only producing 70% of the luminescence that it was providing when it was first installed. This gives your store a patchy look that customers will find annoying.
It makes far more sense to replace all the bulbs in your store before they lose a chunk of their luminescence. That way all of your lights are the same age and produce the same amount of light.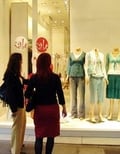 Don't Forget Your Exterior And Parking Lighting
Exterior and parking lot lights are like teeth: how bright and shiny they are affect what strangers think of their owners, and people always notice if one is missing. People will subconsciously want to avoid stores that don't have that pulled-together, well-lit look, and when they have to use such a store, they will want to rush through it.
Electricians can do the same job as cosmetic dentists when they replace and maintain your outdoor lights, including the ones in your signage.
Choose Your Lighting Types And Placement With Care
While many stores default to the long fluorescent lights, they don't provide optimal illumination for every store. Their lighting can be harsh and make your products look less appealing to customers. This is particularly bad for boutiques, where people are often shopping for fun and can be choosy about what they buy. It also matters where you put lights: clustering them in one spot will cast shadows on products and, again, make them look less interesting to potential buyers.
You will be better off upgrading your lighting to LEDs. Their illumination spreads better and flatters your products more. LEDs will also buzz less, and their bright white coloring can give your establishment a modern, trendy ambiance.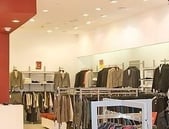 Getting an expert involved in your store's lighting is a crucial step in doing all the above things. With Lighting Services, Inc. you can be assured that your store's lighting will get the expertise and attention it needs to put your customers in a buying mood. Please contact us for more information.