You might have seen trucks at various work sites that had an arm with a bucket attached to the top of it. This arm extends far above the truck, and people can ride up in it and stand in the bucket while working. As you may have guessed, these are called bucket trucks, or occasionally, cherry pickers. The original version was indeed used to pick cherries and other fruits in orchards at harvest time. It had a platform that could be moved up and down and a worker would stand on the platform. Not only did using a cherry picker provide more safety than using a ladder but it also eliminated damage to trees from ladders being placed against the trunks and branches. Today the modern cherry picker, the bucket truck, is used in many industries. Particularly, electrical companies like to use them. There are a couple of reasons that an electrical company would prefer to use bucket trucks instead of making their electricians shimmy up poles or ladders to do the job.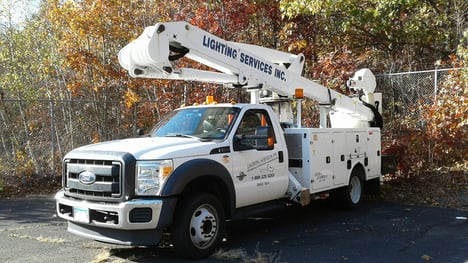 Safety
The buckets on these trucks come up to about waist height on most people and include enough room to move around. These attributes make doing the job safer for both the electrician, who doesn't have to worry about falling from a height while he or she works, and anyone around the job site. Anything that may drop is caught by the bucket so you don't have to worry about falling tools.
Speed
Since the electrician is standing on a solid surface while he or she is working, that person can focus all their attention on the task instead of having to do things with one hand and spend time making him or herself comfortable. The truck also saves time walking between poles and climbing up buildings. In general, this leads to having the job done as quickly as possible so that the client can get back to their normal routine with minimal interruption.
Applications
There are a number of ways to use bucket trucks. For instance, you might see them being used for these jobs:
Changing the lights with a bucket truck is far more convenient for commercial clients. No one has to climb up and down a pole every time a single light goes out. Also, it is recommended that you change the bulbs all together on a regular schedule so you don't wind up with dark spots. Trucks make this group changing feasible.
Changing Stadium Or Ball Park Lights
Stadiums put their light bulbs far overhead, and often the only reliable way to reach them is with a bucket truck.
The secure platform of the bucket allows electricians to diagnose and fix store signs quickly. They will have a good view and a safe place to store their equipment while they work. It also attracts attention, which can encourage people to try out your store.
We have learned in our 85 years of business that using the right tool can improve our work product and customer satisfaction. This is why Lighting Services, Inc. uses bucket trucks on a variety of jobs. It has made it more convenient for our clients and allowed us to use our skills to the best of our abilities.
Even when we are not using a bucket truck, we can help with your lighting needs. We test and fix emergency exit lights, upgrade lighting fixtures to LED's, and provide regular lighting maintenance. If you would like to learn more about our services, contact us.