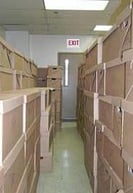 Fire safety is one of the biggest reasons that building codes mandate emergency exit lights, but it isn't the only reason to have these fixtures. In fact, fire is thankfully rare in buildings that comply with local building codes. This makes it so that emergency exit lights are usually activated in other situations. Here are some of the most common ones:
Power Failures
Even with the most modern infrastructure, power failures still happen. Someone may back a truck into a power pole, a storm may come, or a transformer may blow out. In many cases, the cause of the failure is even more mundane, such as a blown fuse. When these things happen, people inside of a building rely on emergency lighting to find their way through the structure, and if needed, get to the doors. Emergency lighting, including exit lighting, also helps to maintain calm when the power goes out suddenly. With a good system, people are only in full darkness for a second or so, not enough time for panic to take hold.
Floods
Flooding, even if it's far from your building, can short out electrical infrastructure and cut the lights. Though the darkness is technically from a power failure, the situation is compounded by the water coming in under your doors. Then, it's even more important to prevent panic and ensure that people can find their way out or to higher areas inside.
Fires
Fires do occasionally happen, and it takes strong lighting to ensure that the doors can be found even through clouds of smoke. Our systems comply with fire regulations to ensure that your emergency exit plan can be quickly carried out when need be.
To learn more about emergency exit lights and the systems needed to keep them running even when the main power is off, just contact us. We'll be glad to discuss your needs and recommend the appropriate solutions.