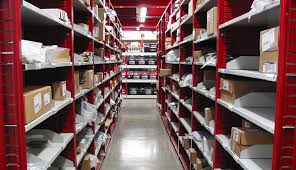 Every business, no matter how big or small, comes with a surprisingly long list of maintenance responsibilities. Just keeping the facility properly swept, mopped, and wiped down with a sanitizing cleaner takes enough effort as-is. Almost no team manages to keep up with every corner of the building, especially in areas where it's not fun to be. From cleaning the break room microwave to wiping down handrails, there are a number of facility upkeep tasks that need to be maintained, and maintaining the building lighting is one of these little tasks that all too often falls through the cracks.
While central lights in the office, lobby, or on the store sales floor are replaced when they go out because the dark spot in the room is hard to ignore, there are many little places that almost never see the lighting maintenance they need. Today, let's take a look at 5 commercial lighting locations where maintenance almost never occurs.
1) Back Stairwells
Stairs and stairwell maintenance are a touchy subject with many businesses because they are one of the leading causes of on-site injuries. Stairs where customers tred are almost always kept clean, maintained with traction strips and well-lit. However, stairwells that only employees use are all-too-often neglected in both cleanliness and safety maintenance.
If a light goes out in a private back stairwell, an employee might think to themselves, "Oh well, I'm safe today and I don't feel like doing anything so it'll be alright". And this is true right up until it isn't. Then someone takes a tumble in the dark and winds up on workers comp.
2) Parking Lots
Parking lot lighting is one of the best things any store can do for both vehicle safety and external security. A clearly lit parking lot can prevent vehicles from hitting curbs at night and provides a safely illuminated area where crime and general hooliganism is easily identified and filmed. However, when a parking lot light goes out, it may take awhile before that light gets repaired due to the height of the fixture. In fact, there may not be anyone available who has the safety training or equipment to get up to the parking light to perform the maintenance.
3) Employee Bathrooms
When a light goes out in a customer bathroom, someone is sure to eventually report it or make an official complaint and the light is fixed. However, employee bathrooms are a different story. If no one on staff wants to step up and take responsibility for changing the bulb or no one knows how to address the commercial light fixture, your employers wind up washing their hands in a poorly lit bathroom.
You don't need us to tell you that lighting is vital to help your employees both maintain their self-care and ensure their hands are clean when they return to the office, workshop, or sales floor.
4) Walk-In Coolers and Freezers
Clear lighting in any food storage area is also vital to ensure that expiration dates can be tracked and any signs of mold, dirt, or insects are immediately dealt with. This is particularly important for commercial walk-in coolers and freezers where perishable goods are stored. But when one of the lights goes out in your walk-in cooler, staff may not be able to change the bulb if they tried.
Lights inside a walk-in cooler are always specially designed to resist the frost and are usually sealed inside a mechanism to keep the frost away from direct contact with the bulb. Even if the staff did know how to change the light, few want to stand in a freezing room to do so.
---
Don't let responsibility shuffling, lack of equipment, or lack of manpower allow your facility to fall into disrepair or suffer the effects of poor lighting. Maintaining your commercial light fixtures is crucial to staff safety, food safety, and the overall quality of your facility. Let Lighting Services, Inc help you keep up with all your commercial lighting maintenance needs.