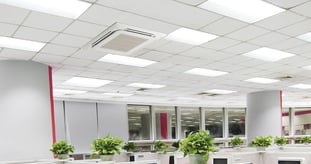 So many factors are involved each day that make up our business decisions. It's often easy to fall into a pattern of tunnel vision where only today's problems are concerned. Let's take a quick look at the two best reasons to look at upgrading your company to LED lighting now, instead of waiting until it becomes a problem.
Implement Upgrades in Phases
The first gut reaction to this upgrade is that it is just too expensive. Why fix it if it isn't broken? We're going to cover that as well as show how affordable it really is if you just initiate LED lighting in phases.
Gradual implementation of LED lighting will allow you to quickly see the cost savings. You can then use the savings found from phase 1 to implement phase 2 until the project is complete. Basically, the initial investment ends up funding the remainder of your upgrade through savings.
Another offset for the cost could very well be found through your local utility company. Many utility companies offer free assessments of energy projects to see if they qualify for federal or state rebate programs. There are also other tools to use to find qualifying programs for tax deductions or other incentives to ease the cost of improvements.
How LED Lights Impact Bottom Line
LED lights use (on average) 50% less energy than other lighting forms. This will be reflected in the lighting portion of your utility bill by a 50% decrease in billing. It is an instant and easily recognizable return on investment you will see month after month.
A 2017 report from the DOE concluded that energy efficient buildings have higher rates of occupancy, higher market value, lower operating expenses, and lower rent concessions per square foot. When it comes to net operating income (NOI), green buildings outperform lower efficiency buildings by 28.8%. Improving the energy efficiency of a building is one of the best value-added improvements a customer can make to a building.
Emotional Value of Going Green
Along with increasing energy efficiency, commercial market value, and rates of occupancy, you have another plus from going green. What is good for the planet is good for business, or so is the thinking of potential commercial tenants. Your reputation for caring about more than the bottom-line will be the direct result of your interest in the bottom-line. It's a win-win! Reduced energy usage, reduced carbon footprint, and savings on energy costs are very persuasive reasons for upgrading to LED lighting in your business.
Additional Advantages of LED Lighting
There are other benefits of upgrading to LED lighting that has nothing to do with up-front cost or return on investment. Consider these:
Increased employee productivity through better concentration, fewer headaches, and eye strain
Increased customer satisfaction
Increased use of real estate
Increased use of tax incentives
Decreased maintenance costs
Decreased air conditioning costs
We've looked at the reasons given most often for not upgrading, i.e. up-front cost, don't fix what isn't broken. We've looked at ways to combat the expenses and reasons to move forward now rather than wait until it is broken. We've seen the cost savings this simple change can make to your monthly operating cost and a number of other positive effects you will receive as a bonus.
What's stopping you now? Pick up the phone and call us today. We will meet with you to determine the best approach for your business to upgrading to LED lighting. Once we have arrived at a plan together that meets with your approval, we will turn your dream into a reality. At Lighting Services, Inc., we have 80 years of self-performing experience to make sure your job will be done right the first time.