The emergency lighting ballast, also referred to as the fluorescent power pack or emergency power pack, allows the same lighting fixture to be used in both the normal and emergency operations.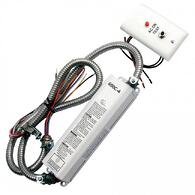 In the event of a power failure, the EMB switches to the emergency mode and operates one or two of the existing lamps in the fixture for the emergency lighting fire code required ninety minutes. These units are UL listed, have both 120/227 voltage capability, an indicator light, and test switch. The units contain a battery, charger, and a inverter circuit in a single package. They can be ordered in new fixtures or they can be used to retrofit older fixtures and they are able to be utilized in many different types of fixtures (flush mount fluorescent, recessed cans, etc.).
The only negative factor is that the EMB is a sealed unit and when the battery fails (approx. 4-5 years later) the entire unite must be replaced.