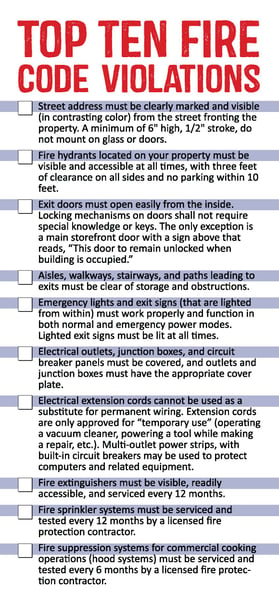 It's important that you meet all mandatory fire code regulations at all times. You never know when there will be Fire Marshall inspections to see what's going on within your building. Various forms of equipment need to be present in your building.
Do Your Research
The fire codes can vary dramatically by state as well as by city. You will need to do your research to determine what the fire code is and how you can achieve a safe environment for fire ground operations.
You need to look at such things as how will the fire department respond, the management of a fire, the way to prevent fire, as well as fire protection and suppression systems. Everything you do within your building needs to be considered.
It might be beneficial for you to create a team to help you meet fire code. You will want to look at such things as:
The access road being maintained and clear for fire trucks
Clear access to the building and roof
Clearly marked areas of your building
Access the fire hydrants and other water supplies
A readily available building information card
Properly maintain fire extinguishers
Emergency lighting throughout all main areas
All of these components and more will make up the fire code that you need to adhere to within your building.
Have Emergency Lighting
If there's a fire, it's a very good possibility that the power will go out. What happens then is that people cannot see in order to exit the building. It also makes it difficult for the fire department to see where they need to go in order to navigate the building.
There are many things you need to know about emergency lighting. Knowing the different types of lighting and how to keep them functioning properly is critical. You will also find that there are some energy efficient systems that will help you to keep your electrical bill in check.
Schedule an Inspection
Inspections will need to be scheduled periodically so you can be sure that everything is maintained. You not only have to adhere to the code in the event that a Fire Marshall comes by but it could be what saves your building from a fire. You need to make sure that you're doing your due diligence to keep your employees safe.
If there is an issue with electrical components, you want to know that you can call for repairs. You can then schedule inspections to ensure that everything is back up to code.
There are a few inspections that you're able to schedule throughout the year.
The first is to schedule inspections of your fire extinguishers. By knowing that they are fire-code compliant, it provides you with peace of mind knowing that they are ready to go in the event of a fire.
The second is to schedule an inspection of your emergency lighting. While you expect exit signs and other lights to go in if there is a power failure, it's better to know for sure.
Maintaining your fire code is absolutely critical. You don't want to get into a situation where you are in violation as it can result in fines as well as cause problems if there is a fire in your building. You don't have to do all of the work on your own. Instead, you can rely on a company to assist you with the various inspections.
Lighting Services has been in the industry for over 80 years and operates in 11 states. Contact Lighting Services, Inc. today to learn more about emergency lighting code requirements and how you can meet them.