Building contractors may grumble about emergency lighting and safety regulations, but in an emergency the name of the game is egress. While local codes may vary somewhat in language, the International Building Code (IBC) states that "means of egress is a continuous and unobstructed path of vertical and horizontal egress travel from any occupied portion of a building or structure to a public way. A means of egress consists of three separate and distinct components: the exit access, the exit, and the exit discharge."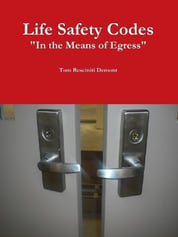 The IBC Section 1006.1 further states that all means of egress, including the exits and the exit discharge (if the exit doesn't open directly into a public area), must have emergency exit lights and be properly illuminated during all the times the building is occupied. Some state and local codes have expanded this to include off-hours contract cleaning crews.
Proper Lighting of Exit Routes:
In general, the IBC requires the exit access, exit, and exit discharge be illuminated at not less than 1 foot-candle (11 lux) at the walking surface. There are exceptions for theaters, but those lighted strips along the aisles and discreet sconces are there for a reason. The National Fire Protection Association (NFPA) has adopted the IBC requirements for lights and lighting levels. Some jurisdictions may have tougher standards. Consult local codes for specific requirements.
Power Failures and Emergency Exit Lights:
When the power goes out emergency lighting systems, including the exit lights, must switch over to battery power within 10 seconds and must maintain illumination for 90 minutes. The 90-minute window not only gives the occupants time to escape but also aid firefighters and first responders. Dependable battery life can not only be the difference between life and death but can reduce the damage to your property.

Lighted Exit Signs:
There are general rules for placement of exit signs, but local fire marshals have the final decision. In new buildings it is fairly straightforward. In remodels, especially in historical buildings, there may be some negotiation and compromise. A qualified emergency lighting contractor can advise and assist with choosing types and location of exit lights.
Exit signs may be internally or externally illuminated under the IBC. The signs are to be kept illuminated at all times and are subject to the same 90-minute battery requirement as other means of egress lighting.
There are also strict standards on lettering size, font, kerning, as well as levels of illumination. The goal is to have an EXIT sign be recognized in dark smoky areas by people who may not have perfect eyesight. Everyone knows what that shining beacon above the door means.
What isn't spelled out in the code is the type of lighting. As technology improves and expands, so does the selection of lighting. For example, installing or upgrading continuously illuminated exit signs to LED lights will show significant savings over the life of the fixture with no sacrifice in safety. Fewer bulb changes also means fewer disruptive service calls or dragging out the ladder and fussing with the light cover.
Working with an experienced local emergency lighting provider and installer can save you time and money. Local lighting contractors are familiar with the codes and inspectors and can craft a solution that maintains safety, satisfies codes, and works with your budget. The sooner in the project you contact us, the more the safety lighting can be incorporated into your plans.