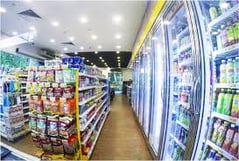 Interior and exterior lighting are more than simply lighting a path for people to find the building or their path while inside. Lighting is also in place for emergencies as well as to adhere to fire code.
If you don't take care of your lighting, it could result in problems with visibility as well as fines from the city.
The good news is that you can schedule lighting maintenance throughout the year. It will make it easier to identify any problems with your lighting and for problems with a single light or system to be repaired.
Who needs lighting maintenance?
There are a number of businesses that require lighting maintenance. If you are a retailer, supermarket, school, warehouse, or any large business, you need to make sure that all of your lighting works. Particularly if you have a large number of customers or employees in your building every day, your lighting is designed for safety.
If there is a power outage or an emergency that turns the power off automatically, you need to be sure that your emergency lighting is working properly so that it can help people find their way as well as to escort them out of the building.
If you're not sure what kind of lighting you have, or you have a large business where you're not sure whether your lighting is sufficient, it's important to call for maintenance so you can learn more about what's going on inside your building. What you don't know could end up causing injuries or being the downfall if there is an emergency at one point or another.
What's included in lighting maintenance?
When you schedule a lighting inspection, a professional will walk through your building, identifying all of the different types of lighting that you have. This includes any aerial lighting in your parking lot, emergency lighting throughout the building, as well as any other lighting that may be present.
You can receive recommendations on how to take advantage of energy-saving lighting retrofits. This will allow you to choose LED or fluorescent lighting solutions that will help to save you on your utility bills.
If there are any broken bulbs or there are problems with the lighting, these repairs can be completed on the spot or scheduled for you. Additionally, you may want to consider upgrading to a new system that is both energy-efficient and capable of meeting all of the latest fire codes.
You can choose from monthly, semiannual, or annual lighting maintenance services. During this time, you may also want to consider a lighting efficiency assessment to learn more about how you can save money and even how certain types of lighting systems can increase productivity.
Scheduling Your Maintenance
You don't want to get into a situation where you don't have functioning lights when you need them the most. The good news is that you can schedule maintenance to learn more about your systems. By working with a qualified contractor, you can learn more about what is needed for your building as well as ensure that your money is being spent on the best LED lighting upgrades.
At Lighting Services, Inc., we can provide you with lighting upgrades, emergency lighting, and on-call electrical repairs. We have a high level of dependability and are extremely responsible. As a family-owned business that has been around for eight decades, we understand the need for quality lighting and can provide the necessary inspections and maintenance.
We operate in 11 states, providing you with the convenience needed to schedule lighting maintenance regardless of where you may be. Contact us today to schedule your maintenance appointment.