Keeping your emergency and exit lights ready for the worst is an important part of maintaining any building, and conserving the lights' backup batteries are a big part of that job. Doing it effectively, fortunately, is fairly easy once you understand the basics of emergency light batteries.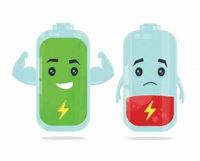 Emergency And Exit Light Batteries
Emergency and exit lights are normally hooked into the electrical system of the building they are attached to, but they have to have a backup source of electricity for when the power turns off. That means having batteries that can go to work when the first source of power cuts out, and which should be able to work for 90 minutes. To accomplish this, emergency and exit lights can use two types of batteries: nickel-cadmium and sealed lead-acid batteries.
Nickel-cadmium batteries are a bit of more recent invention and don't require adding any type of liquids. They work by putting a non-conductive layer of material between a bit of nickel and a bit of cadmium. This causes the metals to produce charged ions and, thus, electricity. These are small batteries that can be oriented in any direction and can last longer than lead-acid batteries. However, they are more expensive than lead-acid batteries, don't deal as well with temperature extremes, and need to be completely discharged sometimes, so lead-acid batteries remain popular for emergency lights.
Sealed lead-acid batteries work by having lead alloy plates immersed in acid in them. As the lead breaks down from the acid, they produce electricity. Lead-acid batteries are likely what you have if you inherited older light fixtures since these are the oldest type of rechargeable battery around. Letting sealed lead-acid batteries lose their charge completely damages them and shortens their lifespan. Having them re-cycled regularly conserves them, saving you money.
Testing The Batteries
It can be difficult to tell if exit lights and emergency light batteries are running low on charge because they will work fine when drawing from the building's electrical system no matter what the state of the backup power supply is. The batteries will also have a surface charge to them even when they are not fully charged, which will allow the lights to stay on for a few seconds after power from the building stops flowing to them. This is why exit lights generally have a button somewhere on their casing that will be marked as the test button. You push on this for 30 seconds, and the light should turn on and stay on for the whole time that you are pushing it. If it dims or cuts out, your battery is in trouble. Just remember to hold the button for the full 30 seconds or you will risk being fooled by the dying gasp of the battery's power.
Another way of testing your emergency and exit light batteries, which is especially useful if you have a big building with a lot of lights to test, is to locate the switch that sends power to the lights on your circuit breaker and flip it off. This is recommended for the annual 90-minute test. If your lights stay bright for the whole time, then your batteries are in the clear. Having them regularly inspected and re-cycled between your annual tests is a good way to make sure your emergency and exit lights are in good shape for years to come.
Fortunately, battery testing and re-cycling are services that Lighting Services, Incorporated provides. If you want your emergency and exit lights checked, contact us.