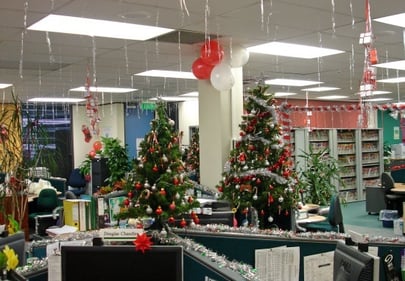 With the holiday season upon us, the evergreen, tinsel and lights are emerging from storage to make their annual appearance on store fronts, doors and counters. Oh, yes, and let's not forget the requisite tree and the beautiful baubles and lights adorning it.
Enjoy your lights, music boxes, and ornaments this holiday season! We need the good cheer and the stories of hope and promise. Keep in mind safety first, to keep the holidays happy.
Do you know the fire code for holiday or temporary lighting? Extension cords, power strips, and adapters can be friends or foes.
The National Fire Protection Association keeps abreast of technological advances in the National Electric Code (NEC) articles concerning temporary wiring installations, the most recent according to IAEI Magazine being article 590.
While many electrical concerns seem like common sense, the details of electrical and fire codes are intricate. Some things covered may surprise you. For instance, did you know there is a time limit for the use of these "temporary lighting fixtures?"
As the old adage says, it truly is better to be safe than sorry. Besides the tedious litigation or fees resulting from fire code violations, injury, loss of work time, disability, or death are too much of a risk for an individual business to assume. Lighting and electrical specialists, trained in the intricacies of keeping your home or business safe offer year round installations and inspections.
Lighting Services, Inc. has been serving the Northeast US with such professional services since 1934. Contact us today at 800-225-0263 to learn more about how we can help you, your business, and family be safe through the holiday season and year round.